Premium Window Repair in Hawthorne FL
Premium Window Replacement & Repair Pros in Hawthorne FL
Entry Door Replacement Hawthorne FL
Entry Doors
In the context of a home, the entry door is not just a functional element; it's a statement piece that sets the tone for the entire house. Entry doors are the primary doors used for entering and exiting a home, distinguishing themselves from interior doors through their construction, design, and materials. They are built to be robust and secure, often made from materials like wood, steel, or fiberglass. These materials are chosen for their ability to withstand various weather conditions, provide insulation, and offer security against intruders.
In Hawthorne, Florida, entry doors also reflect the local architectural styles and homeowner preferences. They range from classic designs with wooden finishes and glass inserts to more modern styles that prioritize clean lines and minimalistic features. The choice of an entry door in Hawthorne goes beyond mere aesthetics; it is about creating a harmonious balance between the home's visual appeal and its functional needs. Given Hawthorne's climate, which can include warm, humid weather and the occasional tropical storm, the entry doors are also designed to offer protection against the elements, ensuring that they are not just beautiful but also resilient and long-lasting.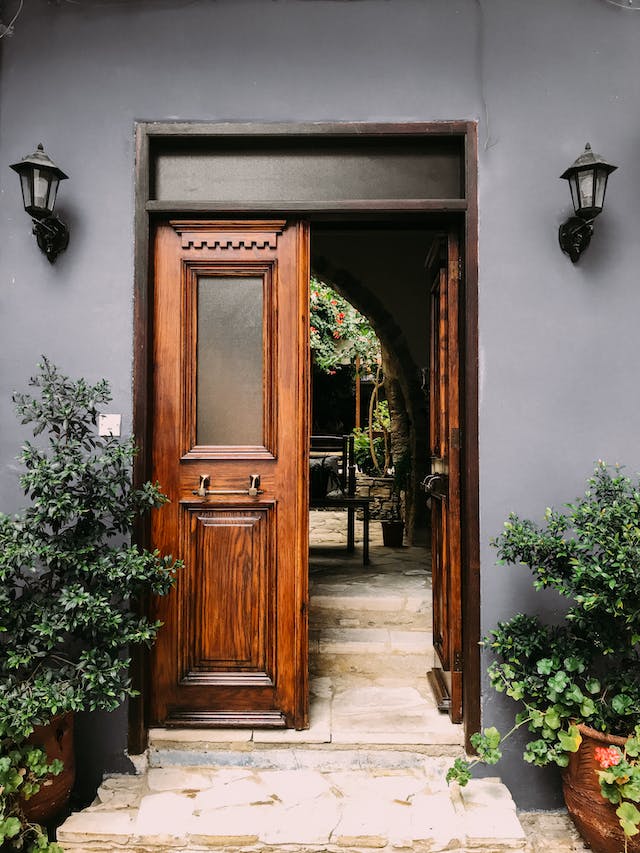 Fiberglass Entry Doors
Fiberglass entry doors are highly suitable for Hawthorne's humid climate. They stand out for their resilience against warping, denting, and fading. Homeowners appreciate fiberglass for its wood-like appearance without the high maintenance. These doors also provide excellent insulation, helping to keep homes cool in the hot Florida weather.
Steel Entry Doors
In Hawthorne, steel entry doors are a popular choice for their unparalleled strength and security. They're especially beneficial for those who prioritize safety. Steel doors are energy-efficient and can be treated to prevent rust, making them a long-lasting option. They are also cost-effective and appealing to budget-conscious homeowners.
Wooden Entry Doors
Wooden entry doors offer a traditional and elegant look, highly valued in Hawthorne's diverse architectural landscapes. They can be customized through staining or painting to match any home style. While they require more maintenance to protect against moisture and sun, their natural beauty and sturdy construction make them a favored choice.
Glass Entry Doors
Glass entry doors are perfect for Hawthorne homeowners looking to add a touch of modern elegance and increase natural light in their homes. These doors can be customized with different glass styles, like etched or tinted, offering both beauty and privacy. Regular cleaning is necessary, but their aesthetic appeal significantly enhances a home's front appearance.
Aluminum Entry Doors
Aluminum entry doors are an excellent choice for Hawthorne, offering durability and resistance to rust and corrosion. They are lightweight yet strong, requiring minimal maintenance. Aluminum doors can be designed to resemble more expensive materials, offering a budget-friendly yet stylish entryway option.
Composite Entry Doors
Composite entry doors are well-suited to Hawthorne's climate, combining materials like wood, PVC, and insulation foam. These doors are designed to withstand weathering and are low maintenance. They offer the best of both worlds: the beauty of traditional materials with the durability and energy efficiency of modern technology. Their versatility in design makes them a popular choice among homeowners.
HAWTHORNE WINDOWS & DOORS
Frequently Asked Questions About Entry Doors in Hawthorne, FL
Upgrade the look and functionality of your residential and commercial property with our top-notch Hawthorne window replacement and door installation services. At Hawthorne Windows & Doors, we're committed to enhancing your spaces with the best windows and doors in Hawthorne.
Don't wait to experience the transformation – reach out to us now for a FREE quote!